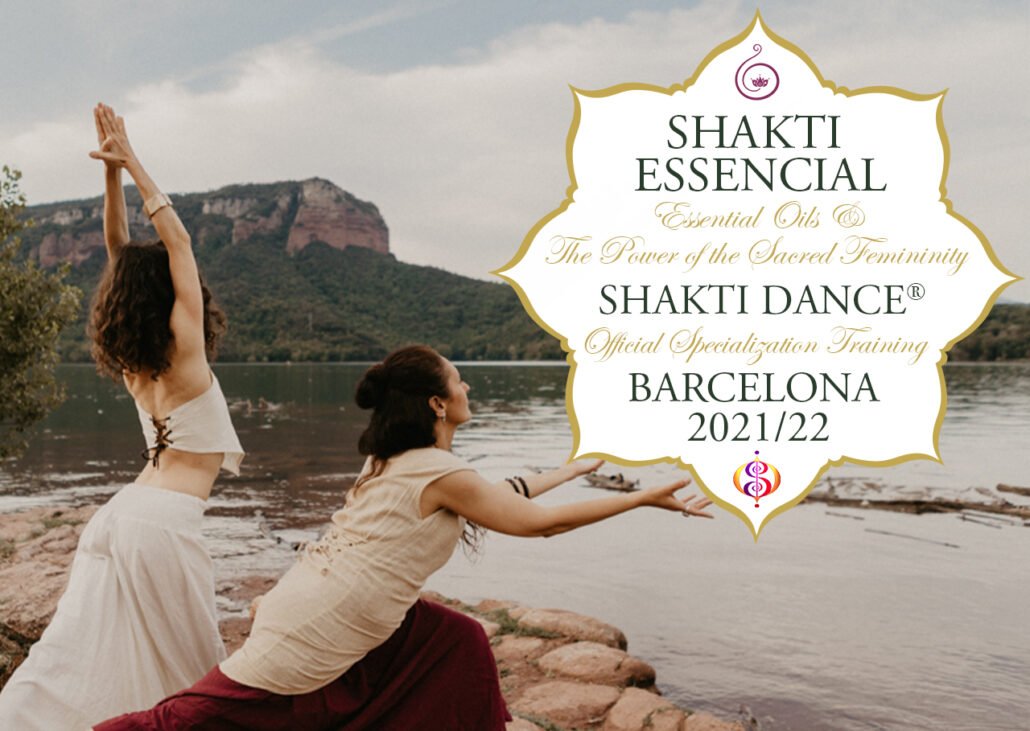 ~ A Shakti Dance Official Speciality ~
~ The Radiance, the Value, and the Power of the Sacred Femininity ~
This Intensive Training Consists Of 6-weekend seminars over the course of one year.
The practice of Shakti Dance® embraces a wide spectrum of themes. The Shakti Dance Academy supports and collaborates with certified Shakti Dance Teachers with special skills to extend and deepen the Curriculum of the Academy. Therefore, specific branches of Shakti Dance® with specialized Shakti Dance® Training Programs are being co-developed.
"This project is a fruit of our personal experiences. By learning, playing, and growing we have collected the most fragrant and gorgeous flowers that we have encountered in our paths and we have created Shakti Essencial, a synergy full of consciousness, liberation, and magic.
~Three Powerful Tools brought together~
The Shakti Essencial Training brings together three very powerful tools to remember, awaken and inhabit our authentic truth, Sat Nam. These tools are the Essential Oils, Feminine Cycles, and Shakti Dance®.
The practice of Shakti Dance® includes multiple keys to take us to a higher state of consciousness, an inner space where we feel present and in union with our Essence.
The Essential Oils awaken memories and activate the awareness of Mother Nature in you so that your experience is deeply transformative, loving, and beautiful.
Feminine Cycles. Whether we are of fertile age or at the stage of the Wise Woman, Mother Nature pulses through the woman in wisely cyclic rhythms. The fact of knowing them, understanding and respecting them leads us to an understanding of our essence, The Sacred Femininity.
Living in resonance with our natural cycles helps us assume and embody the blessing and the infinite wisdom that lives in our feminine polarity. Thus, we can make the most of every moment, enjoying what each stage of our life offers us.
Each of these stages has resonance with the annual cycles of the seasons, the moon's phases, and the Five Elements.
Further Information About the Training:
Curriculum content of Shakti Essencial
MODULE 1: INTRODUCTION  WEEKEND
Shakti Essencial. Bases and principles
Presentation of the tools:  Shakti Dance, Female Cyclicity, Female Archetypes, Hindú  Mythology, Essential oils.
Introduction to Female Cycles
Relation between Archetypes, Hindú Goddesses, Seasons, Elements and Moon cycle
Introduction to  Aromatherapy
MODULE 2
Experiencing Kali
Connection with the Fire element
Female cyclicity: The Enchantress
Aromatherapy in relation to the Enchantress and Kali
Aromatherapy workshop: Kali´s synergy
The hormonal system: The ovaries
Deep transformation through Sound
MODULE 3
Experiencing Parvati/ Maha Kali
Connection with the Ether element
Female cyclicity: The Wise Woman 
Aromatherapy in relation to the Wise Woman and Parvati
Aromatherapy workshop: Parvati´s synergy
Death: the basic element to be reborn
MODULE 4 
Experiencing Saraswati
Connection with the Air & Water elements
Female cyclicity : The Maiden 
Aromatherapy in relation to the Maiden and Saraswati
Aromatherapy workshop: Saraswati´s synergy
Naad yoga and Ragas
MODULE 5
Experiencing Lakshmi
Connection with the Water & Earth elements
Female cyclicity: The Mother 
Aromatherapy in relation to the Mother and Lakshmi
Aromatherapy workshop: Lakshmi´s synergy
The hormonal system: Mammary glands
Self-care technique 
Exam preparation
MODULE 6: EXAM
Cristina Font
- Shakti Dance® Trainer,
- Hatha Yoga Teacher,
- Therapeutic Yoga Teacher,
- Breath Psychotherapy,
- Kinesiologist and therapist in different naturopathic techniques,
- Co-creator of Tierra de Lunas Festival,
- and co-creator of Shakti Essencial.
Eva Gurusevak
- Teacher of Traditional Yoga,
- Kundalini Yoga Teacher,
- Shakti Dance® Teacher,
- Aromatherapist,
- Sonotherapist and currently studying Naad Yoga,
- Co-creator of Shakti Essencial,
- and director of Ioga en Essència Yoga Studio in Olot (Girona).
Encounters & Daily schedule
13th - 14th November 2021 - presential in the venue
11th -12th December 2021 - presential in the venue
15th - 16th January 2022 - presential in the venue
5th February 2022 - live online with Sara Avtar (Shakti Dance® Founder)
26th-27th February 2022 - presential in the venue
19th -20th March 2022 - presential in the venue
8th - 10th April - live retreat
Daily schedule:
From 9.30 am to 6.00 pm
In the seminars of the training, Shakti Dance Sadhana is taught from 6.30 to 9.00 am
Presential modules will be held in:
Blanc Ioga, C/Calàbria 87, 08015 Barcelona
Phone number: (0034) 93 325 68 74 
The last module - Exam module will be held in a retreat house in Cataluña, Spain. 
The address of the retreat house will be specified one month before the last module.
Online Participation
You can also participate online through Zoom Meetings with obligatory presential participation of the last module in the retreat house in Spain.
DEPOSIT PAYMENT
€180 for registration to be paid at the time of your booking.
Early bookings (before the 15th of August 2021) have a 33% discount on the registration fee.
This fee is not refundable
EACH SEMINAR
€170
- Training manual,
- Shakti Essential Oils Kit, (extra payment 70Euro if you choose to participate Online)
- Diploma of Shakti Dance Teacher with Specialization in Essential Oils for the official Shakti Dance Level 1 Teacher
- Diploma of Participation for the participants without official Shakti Dance Certification as Shakti Dance Level 1 Teacher (this diploma will not be recognized as official certification document as Shakti Dance and/or Yoga Teacher)
Please, let us know if you have any questions