Tune to the Pulse of Harmony: Express your Essence!
Liberate your Creative Potential & Embody Vibrant Spirit!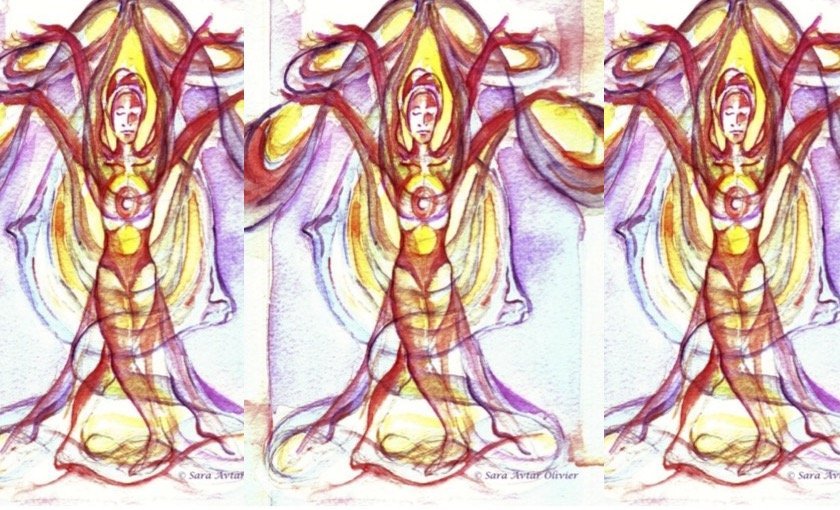 Shakti Dance® is 'The Yoga of Dance', a yogic system with a distinctive Self-empowering method and practice, created by Sara Avtar. It combines in Eight Phases a series of innovative practices and techniques, each embodying the active ingredient of harmonic resonance, "Swara Rasa®".
As a form of yoga, Shakti Dance® fuses breath, organic motion, sound and mindfulness, to align in harmony and merge with Source. Its flowing, rhythmic practice meditatively coordinates mind, body and spirit, returning us to the sacredness of our natural state. It tunes our body as an instrument to express our essence, with original creativity and authenticity.
The system of Shakti Dance® embodies the 'Principles of Harmonious Movement'. Learning to move organically in waves and spirals, with relaxed aware flow, we attune to our inner cyclic harmony, igniting the 'Spirit of Shakti' and awakening our Creative Self. This harmonic flow of prana-shakti unravels our entanglement and illumines our shadows, releasing us into healing and awakening. We are led into a radiant state of relaxed Presence and heightened sensitivity, thereby opening us up to our core vibration and cascading into free dance – for the full expression of our potential. As we step into wholeness, we can harmonise and heal the world.
The Benefits of Shakti Dance®
Shakti Dance® practice cultivates free, organic and creative expression of inner Being. It massages and liberates the body and mind from deep blockages and conditioning, relaxing stress, for healing and self-renewal – opening out into a peaceful, aware state and a gracefully flowing life.
Shakti Dance® is the unique and harmonious blend of:
✨ Flowing Asanas,
✨ Rhythmic Breathing,
✨ Energising Dance Exercises,
✨ Free Dance,
✨ Relaxation,
✨ Mantra Movement Meditations, and
✨ Still Meditation.
Shakti Dance® embodies insights drawn from:
🐚 Yogic Philosophy,
🐚 Kundalini Yoga,
🐚 Sikhism
🐚 Sufism,
🐚 Buddhism,
🐚 Advaita Vedanta,
🐚 Tai Chi and
🐚 Different Dance & Movement Styles.
"The soul is reflected and expressed through our dance when we are in most intimate contact with that Being that animates us."
~ Sara Avtar
Shakti Dance® is a transformative practice also known as 'The Yoga of Dance'. It was created by Sara Avtar and combines various elements like flowing movements, rhythmic breathing, energising dance exercises, free dance, relaxation, mantra movement meditations, and still meditation. The aim of Shakti Dance® is to guide practitioners into a state of relaxed presence, heightened sensitivity, and authentic expression.
Drawing inspiration from diverse wisdom traditions, Shakti Dance® nurtures our connection with the Source, unlocks our creative potential, and promotes healing and self-renewal.
Shakti Dance® also incorporates transformative group ritual ceremonies that foster collective healing, regeneration, and a harmonious reunion with the Earth. These ceremonies honour the interconnection of all life and invite individuals to contribute their unique gifts to the awakening of the world and the creation of a more harmonious and sustainable future.
Shakti Dance® ~ Level 1 Teacher Training Program:
Shakti Dance® utilises the conscious practise of dance, infused with the wisdom of yoga to develop awareness of body, mind and feeling. When the body is massaged mindfully through breath and movement, dance becomes yoga. Releasing physical tension, the mind relaxes, expanding to transcendence and yogic union. This intuitive flowing 'yoga of dance' enhances prana, rejuvenates mind and body, while igniting Creative Spirit!
Practicing Shakti Dance® returns you to a pre-conditioned state of being, entering into pure creative flow. It is attuning to the power that creates and manifests – feeling the animating life force pulsing through the physical body – relaxing deeply, becoming present and alert to sensation. It is the 'Ahhhhhh' as the mind softens and you enter into stillness – the place where healing happens and inspiration is born.
In Shakti Dance®, the Yoga of Dance, Shakti and Shiva merge ~ the individual "drop" merges with the all-embracing "ocean of Being".