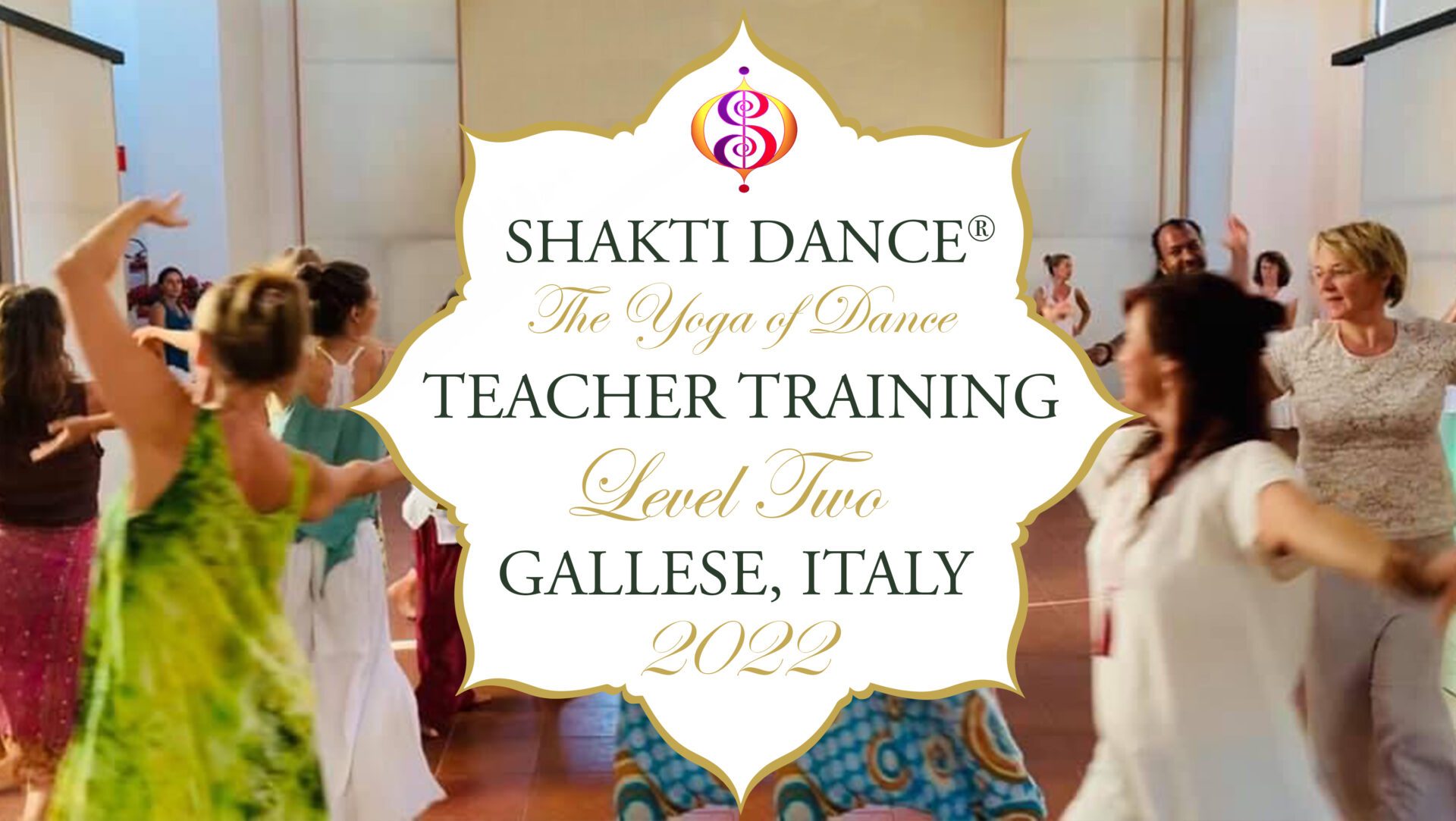 Shakti Dance® International Teacher Training
"Wisdom of the Whole - The Guiding Light of Synchrony"
Live Intensive in Gallese, Italy
The Emergent Inner Guide:
In this Level 2 Retreat, we will look at the rhythmic synergy occurring in each of us, when we synchronise the pulse of breath, movement, sound and geometry with aware intent. We will observe how an inner harmonic resonance emerges, enabling our inner guidance to shine forth and flow. In Shakti Dance®, this process is known as 'Swara Rasa'.
When we come together with other like-hearted people, moving, breathing, singing in synchrony, our individual resonance is then further enhanced. The rhythmic pulse of our practice together creates a group interlock; a group psyche. This group psyche, or Inter-Being, is the emergent property of our group consciousness and, being greater than the sum of the parts, has its own transcendent wisdom.
This group wisdom embraces not only the experience of each participant, but it also reflects the qualities of the particular practice we share. The wisdom of our Inter-Being coalesces around the rhythm and pulse of the constellated movement, sound and breath-patterns that we assume together. It is then further imbued with the archetypal theme of our intention.
The brilliance of a diamond arises as light reflects and refracts within it, bouncing off its different internal angles. Similarly, as we join in this Level 2 Retreat, moving together in geometrical group constellations, the essential qualities of our soul-vibration meet, dance and twinkle together. The inter-play of the light of our awareness seeds a 'crystal lattice' in the Earth's magnetic field. As the pattern of our group consciousness is woven together, our different perspectives are reorganised, becoming harmonised, rather than opposed.
When the light of our common essence radiates through a geometrically and rhythmically balanced constellation, it can coherently reflect through the diversity of our individual experiences and perspectives. This then prompts an emergence of the guiding wisdom of our group consciousness.
The harmonious attunement of our group consciousness, synergistically reinforces and enhances the 'brilliance' of each of us. Each perspective adds to those of the others, without detracting from them.
Through this synergy – a form of 'synarchy' can emerge. Synarchy is where the group is jointly orchestrated by all its members. In this case, it arises when the group is simultaneously and harmoniously led from the wisdom of our common essence 'within', rather than being governed from the outside.
It is where each perspective is intrinsic and integral to the directive flow. Synarchy is the new form of governance that is being heralded in by our newly emerging paradigm. It has the capacity to bring Heaven to Earth.
Enhancing the Full and Vibrant Expression of Creative Being
Shakti Dance® is the point where yoga and dance meet – transforming dance into yoga. Here, dance becomes a conscious practice, heightening awareness and unfolding into yogic union.
In this Dance of Life, we live as individual vibratory fields in a swirling mass of vibrations. Our health, vibrancy and wellbeing depend upon how the vibrations in these fields are aligned and harmonised. As the yoga of dance, Shakti Dance® facilitates balance and harmony, using a three-fold synergy of rhythmic breath, movement and sound – together with sensory awareness, or mindfulness.
"The soul is reflected and expressed through our dance when we are in most intimate contact with that Being that animates us." ~ Sara Avtar​